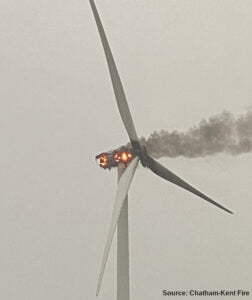 June 15, 2023 — A wind turbine caught fire in Chatham-Kent, Ontario near the community of Muirkirk. According to Fire Chief Chris Case, the fire was impossible to put out, and crews simply had to let it burn itself out.
"the fact [is] that in some rare occasions it's safer to allow something to burn out … extinguishing this fire was impossible," Chief Case said.
Calls about the fire began coming in around 7 p.m. There were thunderstorms in the area at the time, and it is thought by company officials that lightning likely started the blaze. But as of right now, an official cause of the fire has not been given.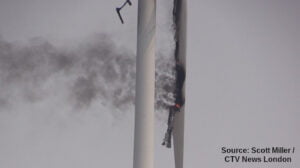 This is the second wind turbine fire in just two weeks in Ontario. On June 3rd, a wind turbine near Goderich, Ontario caught fire. Once again, due to the height of the nacelle, fire crews were unable to put out the fire and simply had to let it burn itself out. In this case, it appears the turbine had a fire suppression system which put out the fire in the nacelle, but flames continued to spread down the blade for some time afterwards, dropping burning debris onto a dry field below it.
This was also the second turbine fire at the Kingsbridge 1 wind farm, with a similar fire having occurred in 2013.
Sources:
Canadian Broadcasting Corporation (CBC)
CTV News