Mark Twain once famously wrote, "There are three kinds of lies: Lies, damned lies, and statistics."
NextEra's recent claim on their Facebook page that Wind Turbine Technician is the second fastest growing job in the country certainly falls in this quote. Technically, NextEra is correct. According to the U.S. Bureau of Labor Statistics, job growth rate for wind turbine service technicians is projected to be 44% over the next decade, making it the second fastest growing job in the country. There's just one problem: There are currently only around 11,100 wind turbine technicians in the entire country. So a job growth rate of 44% over the next 10 years doesn't actually translate into that many new jobs created per year. In fact, the U.S. Bureau of Labor Statistics predicts only around 1,900 new job openings per year for the entire country. That's not a particularly impressive number of new jobs for the second fastest growing career in the country.
To use an analogy: Suppose the United States were to decide that we want three U.S. presidents instead of one so that decisions are made by a vote. The job of "President of the United States" suddenly just became the fastest growing job in America by a huge margin with a 200% growth rate. Obviously, that 200% growth rate number is very misleading, just as the 44% growth rate for wind turbine technician is.
In fact, if we look at actual number of new jobs that will be created each year in various fields? Some of the jobs you might be surprised to find will produce more yearly job openings than wind turbine technicians are professional athletes, dancers and choreographers, and umpires and referees. Here's the full list from the U.S. Department of Labor (the same place NextEra is getting their data) sorted in order from most new jobs to fewest.
| | | |
| --- | --- | --- |
| RANK | JOB | YEARLY OPENINGS |
| 1 | Cooks | 480,600 |
| 2 | Taxi Drivers | 131,100 |
| 3 | Animal Care Workers / Trainers | 80,900 |
| 4 | Health Service Managers | 56,600 |
| 5 | Nurse Practitioners | 30,200 |
| 6 | Physical Therapy Assistants | 25,500 |
| 7 | Logisticians | 24,800 |
| 8 | Web Developers | 21,800 |
| 9 | Information Security Analysts | 19,500 |
| 10 | Data Scientists | 13,500 |
| 11 | Physician Assistants | 12,700 |
| 12 | Statisticians | 4,100 |
| 13 | Umpires, Referees / Other Sports Officials | 3,600 |
| 14 | Athletes / Sports Competitors | 2,900 |
| 15 | Dancers and Choreographers | 2,700 |
| 16 | Solar Installers | 2,500 |
| 17 | Wind Turbine Technicians | 1,900 |
Or in chart form if you prefer: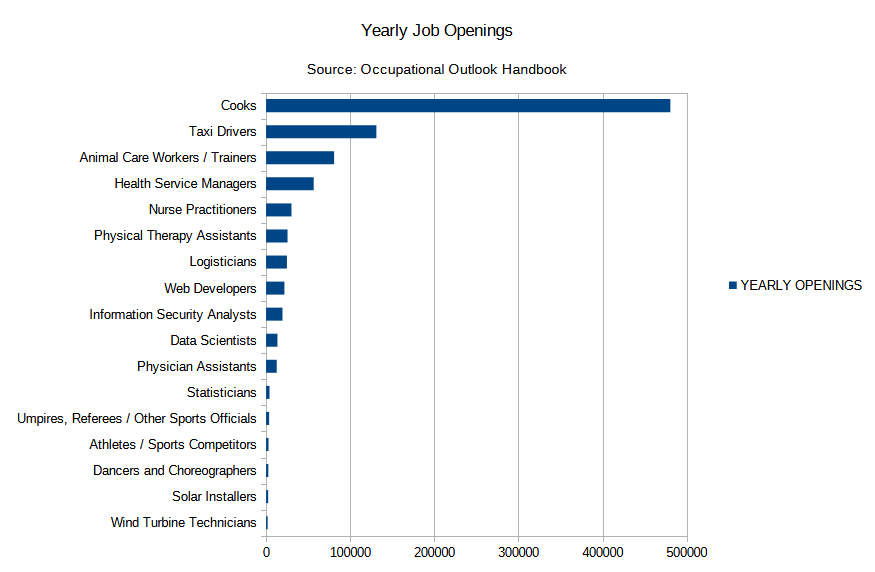 As this table and graph show, when it comes to actual number of jobs created per year in the top 20 list? Wind Turbine Technician ranks dead last, at only 1,900 jobs per year.
In fact, this is the reason Kirkwood Community College has announced they are eliminating their wind turbine technician program after the current class graduates: Lack of interest, and lack of demand.
Twain was right. There are lies, damned lies, and statistics.
---

Note: The reasons there are only 17 entries in the "top 20 list" are as follows:
The occupational outlook data lists "Motion picture projectionists" and "Ushers, lobby attendants, and ticket takers" among the fastest growing occupations, but does not provide detailed data for them, so it is impossible to determine how many yearly job openings there will be for those fields.
Some jobs, such as "animal care worker" and "animal trainer" were listed separately, but ultimately use the exact same data. Rather than list 80,900 openings for animal care workers, and 80,900 openings for animal trainers, which would be inaccurate, I combined them into one job because it's clear from the data that those job openings are split between the two. The ratio of the split between "care workers" and "trainers" cannot be determined from the available data.